Hey gang. Holy smokes. I have blogged a bunch this week. But one of my lovely CP's tagged me in this blog hop to talk about a current work in progress.
In a nutshell: I'll answer ten questions about my current WIP and below I will tag five other authors who get to post a week after me.
The only thing is... I have no idea which MS to answer questions about...hmmm. I have four things in revision right now. So I let Darci pick and she chose Hemingway, so here you go!
1. What is the working title of your book?
THE KEYS ALWAYS IN MY HEART
2. Where did the idea come from for the book?
I was watching the History channel because I'm the coolest person in the world. It was Natural disaster day and there was a show about the biggest hurricane to ever make landfall in the US. It hit the Florida Keys and Hemingway was there when it did. Ernest Hemingway!!! The plot practically wrote itself.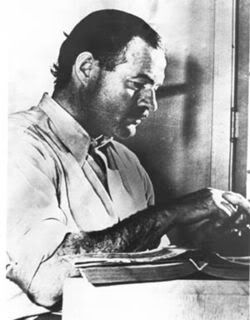 3. What genre does your book fall under?
Historical romance
4. Which actors would you choose to play your characters in a movie rendition?
Hemingway - I have no idea. That will take more thinking than I have mind for.
Robert - The perfect dream actor for this role would have to be Jackson Rathbone.
Suz - The perfect actress would be someone from the 30's or 40's.
So the closest I can get it Natalie Portman.
.
5. What is the one-sentence synopsis of your book?
It's 1935 and Suz lives on The Keys, always awaiting the next big storm, but before the hurricane comes a bigger clash of the heart pulls her between the perfect man and Hemingway.
6. Will your book be self-published or represented by an agency?
I have no idea. I really want an agent. But I write a lot. And quickly. So self-pub may be the way to go. Time will tell.
7. How long did it take you to write the first draft of your manuscript?
It took me 3 months to write the first draft. I finished most of it in a month. I wrote the hurricane scene while holed up in my house waiting out a real hurricane, so that was poetic. It then took a big ugly crow bar to pry the rest of the words from my brain. But I got it out there. And it was not the hot mess I thought it would be, so that's a win.
8. What other books would you compare this story to within your genre?
I'm not sure. It is true historical fiction in that it's about a real event and the facts surrounding that are indeed, facts. and it has a romance, but I haven't read any other books about this storm and Hemingway that were fiction.
9. Who or What inspired you to write this book?
The History channel special gave me the idea but really the first two people I told about the idea,
Sarah
and
Marieke,
said, and I'll quote, "Write it now." So there's that.
10. What else about your book might pique the reader's interest?
It's such a lovely piece of history, The Great Gatsby had just come out and prohibition lifted.
Thanks again Darci for tagging me!
Check out the Writers she tagged with me to post today:
Carey Torgesen
Chessie Zappia
Sarah Blair
Jamie Grey
Here are the authors I tag to post on JANUARY 9th:
Tristina Wright
Jessa Russo
TamaraMataya
Megan Orsini
Carey Torgesen